Immigration policy may be a place to look for economic growth in the U.S.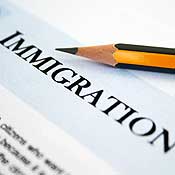 Jeremy Hobson: President Obama says he is planning another push for immigration reform in the coming weeks and months. He met with the Congressional Hispanic Caucus about the issue earlier this week. The President wants to provide a pathway to citizenship for immigrants who are already here illegally.
And we're going to dig into the economics of this now with our economics correspondent Chris Farrell. Good morning.
Chris Farrell: Good morning, Jeremy.
Hobson: Is immigration policy a place where we should look for economic growth?
Farrell: Look, Jeremy, I know it's controversial, but there's just a large body of economic research that says immigration, immigrants -- it's the steroids of economic growth. So if you think of companies like Intel or Google, a lot of their employees -- they're immigrants. The high-tech sector: 52 percent or about half of all companies starting up in Silicon Valley -- started up by immigrants. So one of the best things that we could do for this economy is just to tone down the rhetoric and put out the welcome mat.
Hobson: Put out the welcome mat. And I saw that Mayor Michael Bloomberg of New York City recently said that one day to do that is say, yeah sure, immigrants come on in, as long as you promise to move to Detroit for a while.